On April 28, the 2021 New Brand Strategy Conference of VNET Group was successfully held in Beijing. At the conference, VNET Group officially released its new subsidiary brand "NEOLINK". By integrating the new retail and DYXnet business groups within the company, and establishing the new infrastructure IDC technology company - NEOLINK, VNET Group not only embraced the development opportunity of "Building Digital China" in the 14th Five-Year Plan period, but also made an important deployment of resources and technologies in the IDC field.
Establish a New Brand, Build a New Infrastructure IDC Technology Group
At the press conference, Samuel Shen, CEO of VNET Group & Executive Chairman of NEOLINK, said that the final round of the Internet industry will usher in a new technological revolution, the consumer Internet will transform into industrial Internet and industry Internet. Especially after the outbreak of the COVID-2019 pandemic in the beginning of 2020, human digital life was speeding up in an all-round way. Video conference, remote working, digital customer service and game live broadcasting have penetrated into all aspects of social life.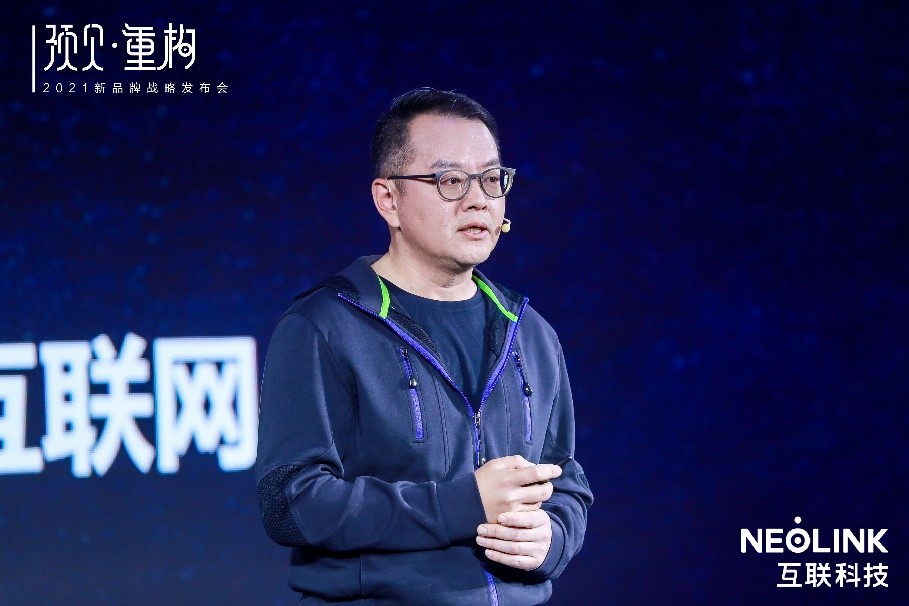 Samuel Shen, CEO of VNET Group, Executive Chairman of NEOLINK
In view of China's national conditions, a wave of new infrastructure construction was set off in 2021, the first year of the 14th Five-Year Plan period, bringing unprecedented opportunities and greater challenges to IDC market. According to the report of Kezhi Consulting, the scale of China's IDC business market will reach RMB 156.25 billion in 2019, with a year-on-year growth of 27.2%. It is expected to reach a larger scale in 2021.
It is worth noting that the development of cloud computing is the driving force behind the growth of IDC market in recent years. The business development of Internet companies and the accelerated digital transformation of traditional enterprises will also generate more differentiated demands. This means that while leasing cabinets, the carrier-neutral IDC service provider must be able to help enterprises solve more complex business and information architecture problems. For instance, they should provide comprehensive IT planning, and even cloudification, cloud usage, and cloud management services.
"On the one hand, traditional engineering IDC will continue to serve industry-leading cloud enterprises, video manufacturers and digital industrial parks, providing turnkey services that cover design, customization, construction, leasing, operation and maintenance; On the other hand, the emerging technology-based IDC will take those enterprises that are going to realize digital transformation in various industries, and be committed to providing cabinet retail, network services, bare metal cloud services, hybrid cloud, multi-cloud management and consulting, development of cloud native applications and other full-stack gold level services." Samuel Shen pointed out that the new infrastructure IDC technology company NEOLINK was established not only to meet the needs of industry development, but also to create internal driving force of self iteration.
"NEOLINK is established for the client-side new infrastructure. Our vision is to make digital migration much easier. Our mission is to be a whole lifecycle partner for the digital transformation of corporate clients in the era of digital economy." Samuel Shen said that NEOLINK originates from VNET Group, but runs as an independent sector, it will always maintain close cooperation with VNET Group in the future. On the one hand, VNET Group will continue to deepen the construction and deployment of integrated data center, and its core capabilities are reflected in the four aspects ("P2C2"): green energy (power), base scale (properties), financing capabilities (capitals), customer acquisition (customers). On the other hand, NEOLINK will focus on open hybrid cloud service providers, so that clients can be at ease, relieved and assured in the new normal environment of multi-cloud. Its core capabilities are reflected in the four aspects ("C2S2"): cabinets in Tier 1 cities, interconnected network services (connection), managed client-side servers and computing power (servers) and customized full-stack services for clients (services). In a word, through refined operation, NEOLINK and VNET Group take a leading position in hyperscale data center solutions and open hybrid cloud services respectively.
Different from the old and mature brand of IDC - VNET Group, NEOLINK is younger, more open and dynamic, with more technological elements. At this conference, innovative presentation form was adopted. The guests used the method of TED speeches "ideas worth spreading" to convey their ideas vividly, and interacted with the audience frequently, creating an interesting and immersive experience. Cai Chunfeng, COO of VNET Group, CEO of NEOLINK, revealed that VNET Group served as the "Huangpu Military Academy" of IDC industry, and exported many talents in the past. In 2021, many senior executives and backbones from Tencent, Alibaba, Baidu, Jingdong, Microsoft and other Internet companies have joined NEOLINK, injected great vigor and vitality into the new company.
Integrate five product lines to build client-side new infrastructure
The process of digital transformation in various industries mainly depends on the progress of "cloudification". Taking cloud native technology as the core, NEOLINK will integrate data center, network products, hybrid cloud, bare metal cloud and O&M management business, launch five product lines for industry digital transformation, and accelerate the process of industry digital transformation.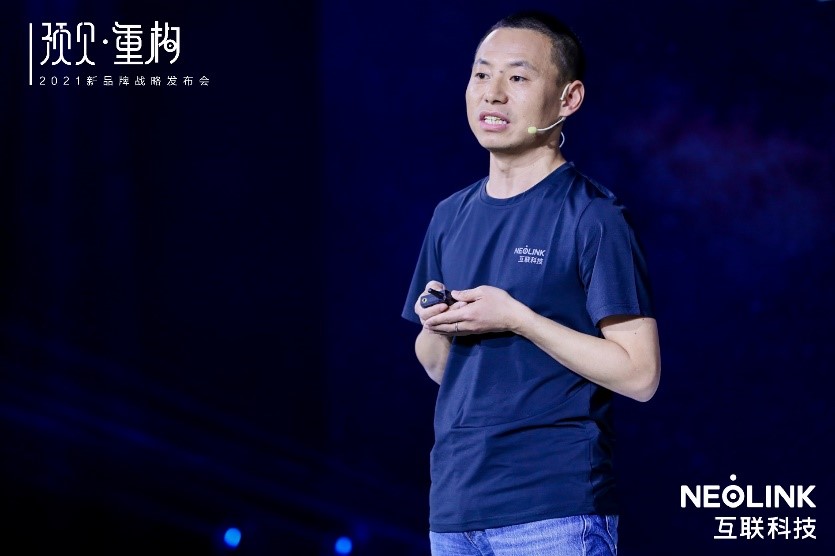 Cai Chunfeng, COO of VNET Group, CEO of NEOLINK
Data center is the core of enterprise digital transformation and the carrier of cloud mode. NEOLINK and VNET Group will share the resources of digital chassis. At present, VNET Group has 53,000 cabinets, and the resource reserve can meet clients' needs for the next 3-5 years. CEO of NEOLINK Cai Chunfeng pointed out: "By the end of 2018, we had nearly 26,000 cabinets. In 2019, we delivered more than 6,000 new cabinets. In 2020, we delivered more than 17,000 new cabinets. That is, we rebuilt a VNET Group in 2 years. By the end of 2020, VNET Group had a total of 53,553 cabinets. From this year, we will deliver more than 25,000 cabinets each year, and we are speeding up."
With the development and evolution of IDC, enterprises have proposed higher requirements for network products mainly from the following aspects: from "access to multiple carriers" to "all kinds of public cloud connect", in order to meet the needs of hybrid cloud deployment and multi-cloud management; from "independent IDC" to "IDC cluster interconnection", in order to meet the needs of distributed business deployment; from "access to dedicated lines" to "SD-WAN", in order to meet the needs of converged access and rapid deployment on cloud. NEOLINK takes the lead in deploying network products. On the one hand, it directly connects the network with major cloud service providers to provide customers with more diversified cloud connection services. On the other hand, it also integrated the DYXnet business in Hong Kong (which was acquired in 2014) into the new network PBU, providing customers with SD-WAN, MPLS-VPN and other products.
At present, hybrid cloud is becoming a new normal that empowers digital transformation. In the process of building enterprise hybrid cloud, cloud service providers are faced with difficulties in multi-cloud management, cloud network collaboration and security capabilities. NEOLINK focuses on the key capabilities of hybrid cloud and forges differentiated competitive advantages, this is reflected in our neutral, stable, interconnected and secure hybrid cloud. NEOLINK hybrid cloud products will adhere to a neutral and open attitude, work closely with partners from various fields, and strive to create a healthy and win-win hybrid cloud ecosystem, which will escort the digital transformation and business development of corporate clients on the cloud. As an important part of the whole product ecology, NEOLINK bare metal cloud product line is equipped with its own hardware R&D laboratory and platform development team. In addition, NEOLINK also cooperates with cloud service providers, brands and ODM manufacturers to create cost-effective hardware computing products.
In terms of O&M services, NEOLINK will inherit and carry forward the engineer spirit and culture of VNET Group, manage and upgrade data centers through automatic, intelligent methods, block coordination or man-machine cooperation, create leading featured interconnected O&M products, improve energy efficiency within a minute and reduce operation costs while ensuring the highest availability, so as to provide the best operation services for clients and empower their business growth.
Cloud Native Empowers NEOLINK to Accelerate Digital Transformation of Clients
It should be noted that in addition to its five product lines, NEOLINK also gets vigorous support from the core strategic cooperation with Tenxcloud. Founded in 2014, Tenxcloud is a professional provider of cloud native applications and data platform services, with rich experience in container management, DevOps, microservice governance, data platform construction, and the R&D and operation of cloud native technologies. So far, Tenxcloud has helped more than 500 corporate clients realize digital transformation.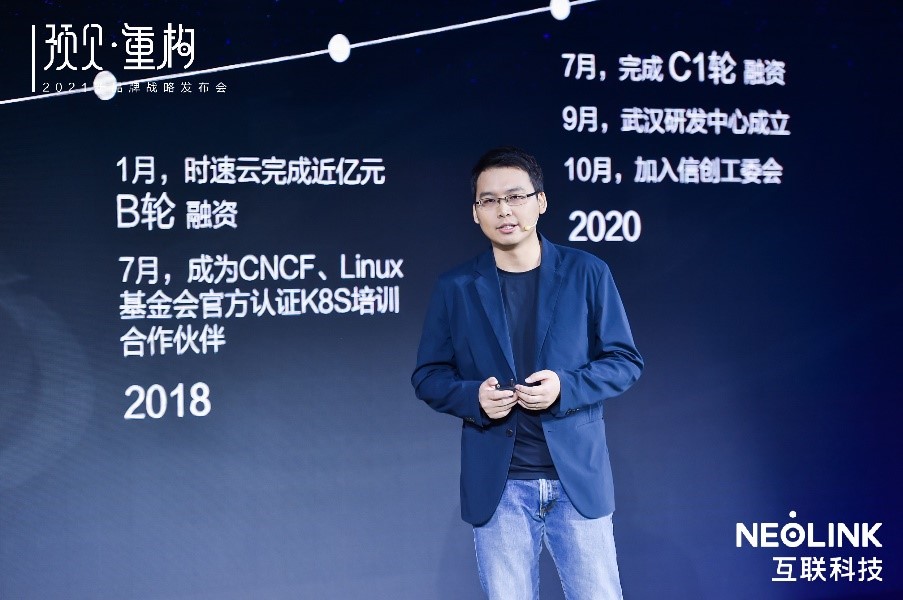 Huang Qigong, CEO of Tenxcloud
At the press conference, Huang Qigong, CEO of Tenxcloud, said, "Cloud native is the only way to accelerate digital transformation of enterprises. At present, the cloud-native container technology has been widely used in various industries. The application ratio in the Internet, finance and education industries accounted for 70%, 46% and 41% respectively. With the application of cloud native technologies, enterprises have increased production efficiency by 52.6% on average, the product iteration cycle is shortened by 40.8% on average, and the IT operation cost is saved by 31.2% on average." At present, Tenxcloud has cooperated with NEOLINK and jointly launched a solution. Relying on the huge data center resources of NEOLINK, Tenxcloud will build a cloud native solution that takes IT application innovation system as the core, and provide stable, safe, controllable and innovative products and services for our clients in governments, finance, energy and other industries.
Indeed, with the continuous promotion and improvement of technology, application and ecology, it has become a mainstream trend that the cloud native technology will replace the previous generation of cloud computing technology. According to the White Paper on Cloud Native Development in China (2020) issued by China Academy of Information and Communications Technology (CAICT), by 2019, China's domestic cloud native market scale had reached RMB 35.02 billion.
Samuel Shen, Executive Chairman of NEOLINK said, "Digital transformation has become the basic survival need of enterprises, rather than a competitive advantage. In the era of digital economy, cloud native is worth mentioning. Cloud native is a new technology architecture, which emphasizes modularization, standardization and servitization. The previous virtualization or cloudification technology basically presents the equipment and resource pool in a logical form, and improves efficiency through sharing and peak load shifting. In contrast, cloud native focuses on application services, and satisfies agile and efficient development and safe and reliable governance through different open source software and tools".
In addition to Tenxcloud, NEOLINK is also establishing extensive and in-depth cooperation with more than 20 ecological partners, including AI Shu, Alauda, RightCloud, CTRIX, DaoCloud, Digital China, Envision, H3C, Information2 Software, Hololens, Lenovo Group, Microsoft (China) Co., Ltd., PingCAP, QIANXIN, RedHat, SANGFOR, Teradata, VMware, XSKY, Yan Rong Tech, ZStack, etc.