Compliance Management
VNET adheres to the concept of "doing business with integrity". We strictly abide by relevant laws and regulations, including the Company Law of the People's Republic of China, the Anti-Unfair Competition Law of the People's Republic of China, the Anti-Monopoly Law of the People's Republic of China, the Foreign Corrupt Practices Act of the United States, and the Sarbanes-Oxley Act, as well as establish a complete and sound compliance management system tailored to the Group. The Group formulated and issued the Regulations on Compliance and Information Security Management and other systems, which specify issues such as anti-corruption, anti-monopoly, intellectual property and confidentiality. We also form a three-tier compliance management system:
● The Compliance and Information Security Management Committee formulates the overall policies and objectives related to compliance management
● The Compliance and Information Security Working Group ensures daily business compliance
● Relevant departments are responsible for risk identification and implementation
To address the impact of increasing external threats such as natural disasters and external attacks on the business stability and information security of our data centers, we strengthen the construction of business continuity management system and obtain the certificates. These include Business Continuity Management System (ISO 22301) and Information Security Management System (ISO 27001) certifications.
In accordance with the laws and regulations related to intellectual property, such as the Patent Law of the People's Republic of China, the Trademark Law of the People's Republic of China, and the Copyright Law of the People's Republic of China, the Group has established a robust intellectual property management system and specified the organizational structure of intellectual property management and the responsibilities of all departments involved. The Group continuously enhances its management in aspects such as patent, domain name, trademark, and copyright, enlarged product categories involved in registration and the scope of protection, as well as actively developed a comprehensive intellectual property system. In case of infringement of intellectual property rights, we will activate an emergency feedback mechanism and set up special teams to collect and analyze the evidence. We will also issue a warning letter in time to safeguard our legitimate rights and interests.
To avoid infringement of the intellectual property rights of third parties, we meticulously review the terms of intellectual property rights in the contract and agree on the ownership of intellectual property rights to avoid disputes. We also keep track of patent application within the industry and identify infringement in advance. If any violation is identified, we will promptly notify relevant departments of rectification before deadline.
The Group gives high priority to the construction of compliance culture and actively organizes the publicity and education on compliance. We design a series of compliance courses through the platform, "VNET E-learning". In addition, all employees are urged to enhance their compliance awareness and improve the business ethics of compliance, veracity and integrity.
External Certification and Accreditation
Business Continuity Management System and Information Security Management System certifications: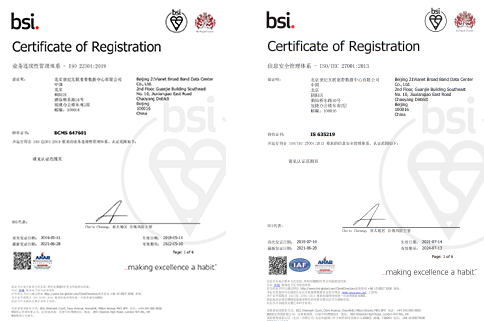 Information security service qualification certification:

Shanghai Waigaoqiao Data Center was awarded Management and Operation (M&O) Certification: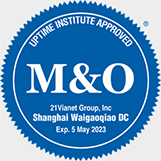 Beijing Yizhuang Boxing Data Center and Nantong Data Center were awarded "5A Green Data Center Ratings" in 2021, VNET Foshan Smart City Data Center was awarded "Innovative Data Center on Carbon Emission Reductions" in 2021:

View more external certifications and accreditations