Leveraging the characteristic of being the core case of digital infrastructure, VNET formulated an innovative "new retail + wholesale" dual-engine strategy for its business models. On the "new retail" side, it is a combination of leveraging our conventional advantage in retail-cabinets-hosting business, well-established network connectivity and multi-cloud environment, as well as our innovative "cabinet, machine, cloud and network" integration achievements. Together, these capacities of ours help create the future generation of IT infrastructure, provide our clients with a customizable one-stop solution to their cloud-network integration needs, and meet clients' demand for all aspects of digital transformation starting at the infrastructural level. On the "wholesale" side, our data center business is geared toward top internet companies, especially top public cloud companies, by providing a one-stop data center service. Our capacity includes data center construction and technical services, long-term operation and maintenance services, as well as capital resource integration services. In sum, we provide an all-around, independently controlled, secured and credible data space that is customizable for our clients.
At the same time, VNET also launched the global collaborative innovation initiative "SPEAR" (Secure, Power, Edge, AI, Revolution) to promote a new power system from the high energy-consuming end. In the fields of "source, grid, load, and storage", VENT is actively participating in promoting the global zero-carbon cause and China's "dual carbon" goals.
With the accelerated digital transformation of enterprises and society, VNET will continue to leverage its strengths and pursue technological innovation to drive the innovative development of China's digital economy under the new infrastructure.
Premium Products and Services
Product and Business Innovation
Guided by customer needs, VNET is always upgrading and tapping into new businesses to meet the increasing demand for data centers and cloud services throughout social digitalization. We give top priority to product quality to deliver premium, secure, and reliable services to customers.

Stability Assurance
VNET are dedicated to ensuring that customers enjoy both solid and reliable quality of service. With reference to the Information Technology Infrastructure Library (ITIL) and UPTIME management and operation standards, we have established a standardized operation and maintenance process to enhance system security and stability. We have adopted the Battery Monitoring System and Building Automation to monitor the operating parameters and operating status of data centers in real time. In addition, they can diagnose and address faults, whilst ensuring the safe and stable operation of data centers. We pay particular attention to the assurance of operational stability during emergencies. This is highlighted by the formulation of relevant plans and corresponding work processes so that data centers can maintain stable operation under abnormal circumstances.

Operational stability is the core metric in measuring the quality of our products and services. We have formulated comprehensive response plans for various contingencies to ensure the stable operation of the data center under various special circumstances. In case of extreme weather such as power outage, high or low temperatures, blizzard, heavy rainfall, earthquake, heavy fog, strong wind and other events as well as subsequent power outages, we have developed a series of emergency plans. These cover risk assessment, pre-warning and handling processes that provide professional guidance to cope with the increasingly acute impact of extreme weather events.
Customer Services
VNET prioritizes customer service improvements in addition to product reliability. We offer superior after-sales services that feature faster response, improved service, and enhanced customer satisfaction. The service process and response have been optimized as our customer service team received technical and soft skills training, developed tools and other ways to raise efficiency.
Information Security Management
VNET takes "standardized management, security and reliability, continuous improvement, customer trust" as its information security policy. We believe that only continuous endeavors in information security enable us to provide high-value products and services that are trusted by customers. This minimizes our business risks while maximizing investment returns along with business opportunities.
Building the System
VNET continued to strengthen the construction and implementation of the information security management system and received several international certifications, including Information Security Management System (ISO 27001) and Information Technology Service Standards (ITSS), to provide system security for information assets.
VNET has established a Compliance and Information Security Management Committee, which is the highest leading body for the management of compliance and information security. The Compliance and Information Security Working Group under the committee is responsible for daily information security management with the primary goal of ensuring business legality, compliance, security and alignment as well as efficient operations. In strict accordance with the ISO 27001 Information Security Management System, we have developed the Compliance and Information Security Management Regulations that clearly outlines the overall guidelines and objectives. On top of this, we have refined the Information Security Management System Guidelines, the Information Security Risk Management Procedures and other regulations to clarify the responsibilities and guide the practices of local businesses and operation locations.
In relation to risk management, the Group has established a mechanism to identify and manage information security risks. This regularly assesses the risks and rectifies those that are deemed unacceptable. As for compliance management, our Compliance Department has established a smooth communication mechanism with various supervision authorities, such as the Ministry of Industry and Information Technology (MIIT), the Cyberspace Administration of China (CAC), and the Ministry of Public Security. This enables VNET to keep track of and evaluate changes in the legal environment, based on which targeted management practices can be adopted in partnership with other departments.
VNET continued to promote the certification of information security management systems. Currently, our data centers are certified as level 3 by the China Cybersecurity Review Technology and Certification Center (CCRC) for information system security integration service, information security emergency response service, and information security risk assessment service. In addition, we are ISO 27001 certified in our main operating regions.
Trusted Cloud Services (TRUCS) certification is the only recognized certification system pertaining to cloud services in China. It is jointly developed by the Data Center Alliance, the Cloud Computing Open Source Cloud Alliance for Industry and CAICT. With professional compliance technology and operational strength, VNET Blue Cloud has been TRUCS-certified since the first batch of certificates were issued in 2014. To date, Blue Cloud has received 11 TRUCS certificates.
Privacy and Data Security Protection
VNET has utilized world-leading encryption methods, protocols, and algorithms to ensure that customer data is securely transmitted and confidentially stored within our infrastructure. We have applied a variety of security protection technologies and methods to fully secure the customer cloud computing environment. While discussing technology types with our customers in the early phase of a project, we delved into their requirements on information security to customize cloud platform solutions. This includes, but is not limited to, the selection of cloud platforms and security components as well as suggestions on security strategies and network isolation.
In addition, VNET formulated the Regulations on Access Management Systems, the Office Network Security Access Management Regulations, the Remote Access Permission Management Regulations and other regulations to standardize security operations by employees in different working environments.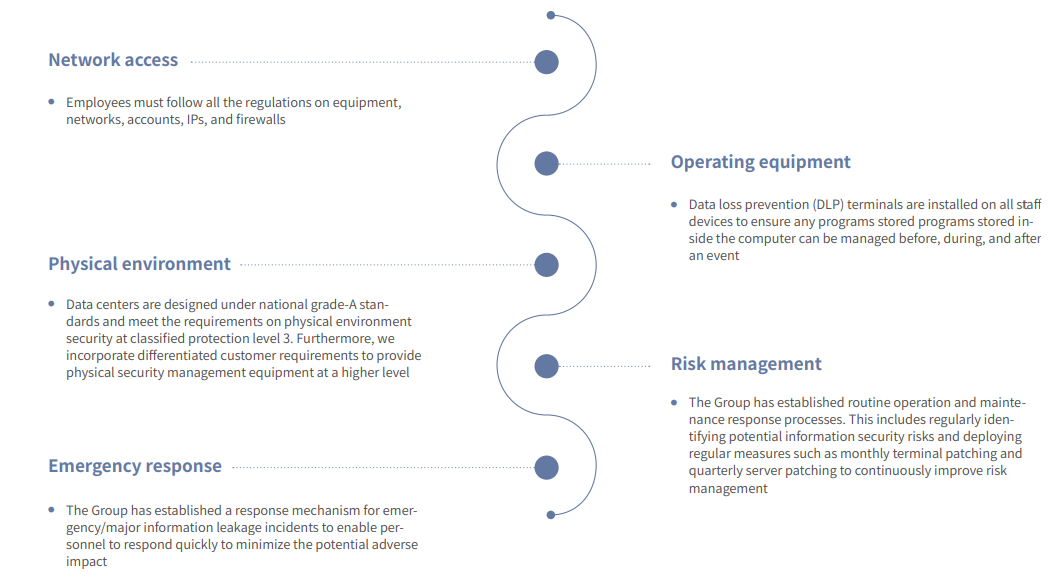 Fostering Culture
VNET is fully aware that the implementation of information security management does not only depend on the continuous improvement of systems, mechanisms, and technologies but also relies on the full engagement of employees. We highly value fostering an information security culture and awareness among our employees and offering targeted training covered multiple dimensions such as information security regulations, concepts, systems and technologies. This aims to prepare them for different risks in different positions that they may face. In 2021, 100% of our employees received training on information security.
Formulating Industry Standard
As an industry leader, VNET pursues the overall improvement of information security in the entire industry. We have maintained close ties with the China Electronics Standardization Institute (CESI), the National Information Security Standardization Technical Committee, CAICT, and the Cloud Computing Standards and Open-Source Promotion Committee, to deeply get involved in formulating relevant policies and standards.