Diverse and Inclusive Workplace
Talent is the fundamental driving force of corporate development. VNET consistently adheres to a people-centered philosophy, fully respects and strictly protects employee rights and interests. We are also committed to offering them an equal, comfortable, and safe workplace.
Protecting Employee Rights and Interests
VNET strictly complies with the Labor Law of the People's Republic of China, the Regulations Banning Child Labor, and other relevant laws and regulations that significantly affect the standardization of our employee management. As a signatory to the UNGC, we adhere to international treaties such as the Declaration on Fundamental Principles and Rights at Work established by the International Labor Organization (ILO). We compiled the Employee Manual and Implementation Measures on Human Resources Management in the VNET Group and Regions to regulate the protection of employee rights and interests.
In VNET, there is no discrimination in the recruitment, appointment, promotion, and turnover of employees based on race, ethnicity, place of origin, gender, age, and marital status. We prohibit child labor and forced labor. We ensure equal pay for equal work regardless of gender and promote the employment of people with disabilities to implement equal employment rights. If illegal employment is found, we will immediately take serious actions against those responsible for the work based on the severity and report breaches to the labor security administration. In the case of child labor issues, we will actively render assistance in contacting their legal guardians upon occurrence.
Promoting Gender Equality
VNET actively implements gender equality policies to build gender-friendly work systems and environments. We pay attention to the challenges and difficulties that female employees may face in the workplace and offer them necessary support. At the beginning of 2022, we became a signatory of the Women's Empowerment Principles (WEPs) to work with global enterprises in improving gender equality and unleashing the potential of women.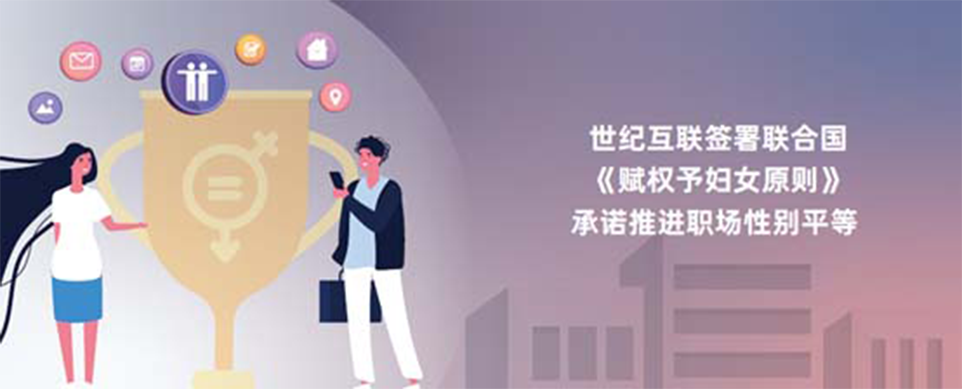 VNET sets the salary structure of equal pay for equal work and manages fair and reasonable remuneration regardless of gender or other factors. We provide paid marriage, maternity and breastfeeding leave as well as leave on Women's Day in accordance with relevant laws and regulations. Employees who have returned from maternity leave are entitled to equal pay for equal work. VNET thoroughly considers the needs of those employees that have childcare obligations and strictly implements parental leave policies to allow for more flexible working hours for breastfeeding employees.
Facilitating Effective Communication
VNET is committed to maintaining effective employee communication mechanisms for positive relations. Our employees can make their voice heard via online and offline open channels, such as suggestion boxes, hotlines, labor unions, the Internal Control Department, and the Audit Department, the Integrity Department, and HR business partners (HRBP). Subsequently, we respond quickly in accordance to the actual situation and file records at each level, thereby catering to their needs while improving our systems and policies.
We have engaged in the full protection of employees' rights to information, participation, privacy, expression, and supervision. We have conducted special training courses, online discussions, and inspections for the protection of rights and interests, tracked and supervised their rectifications. We guarantee employees' legitimate right to fair appeal before they are subject to any internal disciplinary actions. Any form of corporal punishment, inhuman or humiliating treatment is strictly prohibited. We have a labor union to represent the interests of our employees and protect their legitimate rights and interests. The union oversees the protection of employee rights and interests, participates in the formulation of corporate rules in close relation to employees' interests in their footing, and provides suggestions to the management on enhancing employee diversity, safeguarding occupational health and safety and improving employee welfare.
In addition, we monitor employee engagement annually. We conduct engagement surveys periodically targeting all employees to collect their opinions and suggestions as well as understand their morale and work status.
Caring for Physical and Mental Health
We provide and maintain devices, equipment and work systems for the safety and health of our employees. Safety drills and fire safety training are organized regularly to reduce the possibility of accidental injuries and enhance employees' safety awareness. For employees exposed to occupational hazards, we offer protective equipment whilst identifying and rectifying hidden dangers in a timely manner to ensure the safety of our employees. We also care for contractors' employees during project construction. In particular, we sign a safety agreement with contractors that require subcontractors to follow our safety production management rules, assess occupational health and safety risks in projects, and require their staff to participate in safety education and training to enhance safety awareness.
In addition, we have set up psychological counseling rooms equipped with automated external defibrillators (AEDs) for employees in the office area and organized lectures on physical and mental well-being as well as the first aid. We provide regular physical examinations for our employees and take practical measures to ensure they are healthy.
Broad Development Platform
In continuous efforts to improve human resources management, VNET has built a three-pillar system to understand and meet the needs of the business lines whilst supporting routine affairs of employee management and the long-term talent development strategy.
Nurturing Talent
VNET places great emphasis on employee development. We have formulated the Employee Training Management System and established a multi-level employee training system. This is to ensure that our employees are trained according to their development stages and our talents can gain support for their career development. We have built the VNET E-Learning platform to cultivate talents for each business line via digital means and achieve knowledge co-creation and sharing. The platform focuses on nurturing the leadership skills, professional skills, and general skills as well as delivering resource integration to tailor learning maps for each employee. We have engaged in all business lines in building the platform and continuously improved the online learning course system through resource co-creation.
In addition to the internal training system, VNET provides reimbursement for all employees to pursue academic degrees and professional certifications. They receive expense reimbursement for external training and certification exams required for their positions, including the Senior Network Engineer, the Project Management Professional (PMP), and the Human Resource Manager.

VNET applies the formal talent pipeline development strategy to actively develop new pools of talent that have great potential. We regularly conduct featured training programs for different positions to enhance their comprehensive abilities and professional skills.
For the cultivation of managerial talent, the young talent training program systematically empowers talents by stages throughout their leadership development and comprehensively evaluated against a number of metrics during their learning journey. VNET Blue Cloud provides talent with opportunities for mutual learning and cross-disciplinary exchange by launching the leadership development program, Elite Plan. We also create the Honorable Operation and Maintenance Expert Program series for technical talents. This included technical competitions and training camps for operation and maintenance personnel to enhance their professional skills and exchange technical ideas for the overall improvement of all.
Promotion and Incentive Program
VNET has established a comprehensive job level structure and promotion mechanism to ensure equal opportunities for all. We value the long-term performance of our employees and manage their promotions based on their tenure, personal performance, business skills, managerial skills and our business needs. In terms of career development, we offer a dual-path mode in which employees are free to choose either the management or professional path based on their interests and career aspirations.

We have also set up a comprehensive compensation and performance management system to continuously attract and motivate outstanding personnel with competitive salaries as well as a fair and effective performance evaluation mechanism. We regularly conduct performance appraisals for all employees in compliance with the Performance Management Code, aligning the appraisal results with personal development and incentives. This resulted in higher incentives for high-performing employees as well as the motivation for creativity and initiative for all. We have quarterly performance and project bonuses for functional and business departments, respectively, as well as year-end bonuses for all. At the same time, we shared corporate achievements with our employees and offer long-term incentives such as stock options for eligible employees.
We ensured that performance appraisal results were clearly and transparently communicated to employees and allowed them to submit written appeal requests to the human resources center if they disagreed with or refused to accept the results. They would be informed of the performance calibration results after review, investigation and verification by relevant departments.

Welfare System
VNET has built a robust welfare system. In addition to social insurance and welfare prescribed by national and regional regulations, we provided employees with six categories of supplemental benefits: exclusive benefits, anniversary benefits, employee care benefits, health and safety benefits, recreational benefits, and special holidays.