In line with China's "dual carbon" goals and the Group strategy of sustainability, VNET has taken the initiative to make the application of clean technologies one of its core strategies and develop carbon neutrality strategies. We also support our customers and partners with cloud services to reduce energy consumption in IT infrastructure, to jointly build a zero-carbon society.
Commitments to Carbon Neutrality
Our Targets
Faced with the global challenges of climate change, VNET, as a leading and responsible IT infrastructure service provider, has set ambitious carbon reduction targets. These are based on the results of carbon emission inventory and third-party verification in combination with our past carbon reduction practices, in an attempt to drive the Group's low-carbon transition. Our carbon reduction commitments are as follows: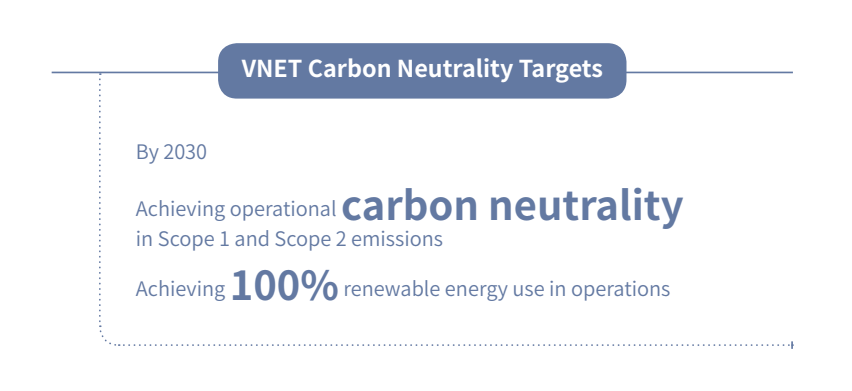 Our Strategies
Based on our current carbon emission status and business model, we have developed a "4C" pathway towards carbon neutrality, namely, carbon avoidance, carbon reduction, carbon offset, and carbon empowerment. This will fully leverage an array of approaches including renewable energy transition, energy-saving technology use, carbon sinks, carbon trading and empowerment of the upstream and downstream industrial chain.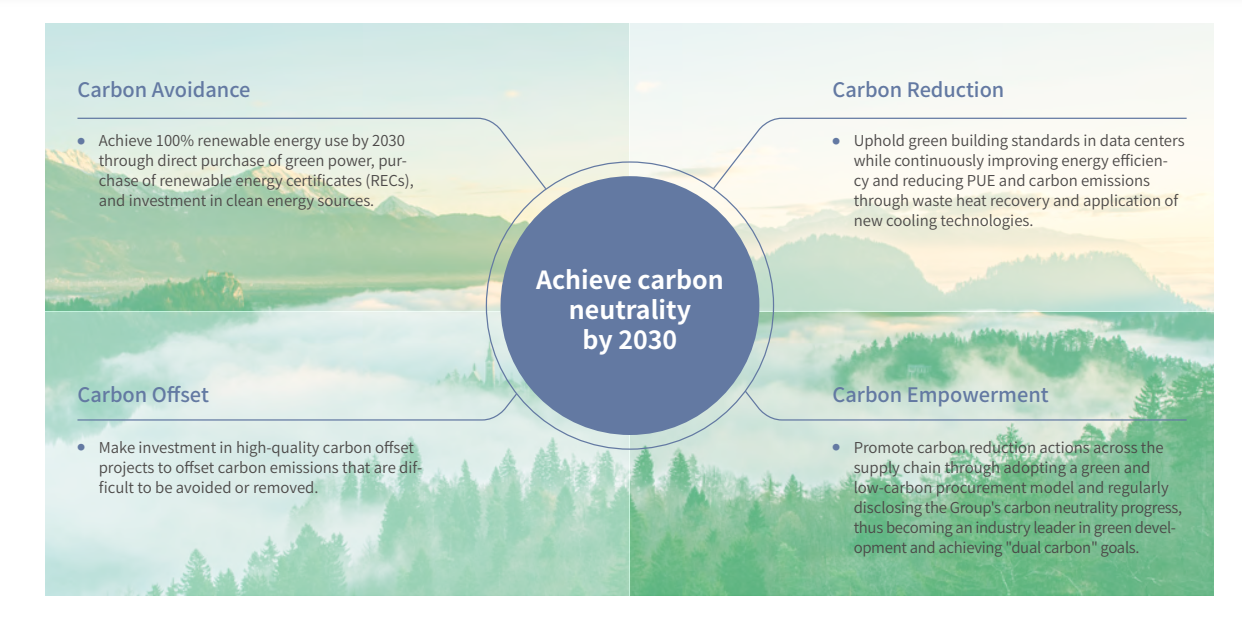 Our Actions
As shown by VNET's statistical records and carbon emission inventory results, the majority of carbon emissions from our operations come from electricity use. Therefore, the transition to renewable energy is an essential pathway to reducing greenhouse gas emissions and mitigating climate change.
For more information on VNET's 2021 greenhouse gas emissions and energy consumption, please refer to 2021 Environmental, Social and Governance Report of VNET Group, Inc.
● Distributed renewable energy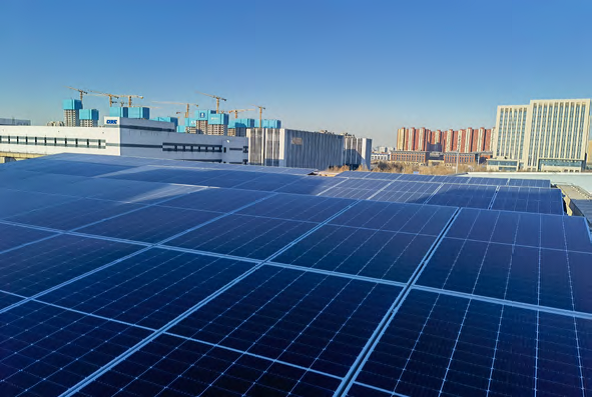 In some of our data centers, we have either installed renewable energy generation equipment or reserved equipment installation locations, such as rooftop PV systems for office or park lighting. This move only realizes the integrated utilization of solar energy and buildings to enhance the percentage of green power use in data centers, but also lays the foundation for boosting the comprehensive energy utilization in the park.
Beijing Yizhuang Boxing Data Center is VNET's first data center to use solar energy for park lighting. With sufficient external light, solar panels can convert the solar energy into electricity via the photoelectric effect and store the electricity in the battery, which will be preferably used for equipment power supply when needed.
VNET Beijing Yizhuang Boxing Data Center PV project
● Photovoltaic + Energy storage technology application
VNET continues to enhance the application of energy storage technology in data centers and implement large-capacity energy storage projects. We are the first in the industry to realize the innovative application of "data center + photovoltaic power + large-scale energy storage", creating the first project in China where new large-scale energy storage technology is applied to large data centers.
"Photovoltaic + energy storage" technology in VNET data center in Foshan
● Strategic energy cooperation
In order to speed up the application of renewable energy, we cooperate with leading companies in the energy sector to explore the best way to increase the proportion of renewable energy in energy use. VNET has signed strategic cooperation framework agreements with three leading power companies in China. We will give full play to our advantages and conduct in-depth cooperation in the construction of distributed renewable energy power generation systems in data centers, long-and short-term trading of green power, as well as long-and short-term integrated energy solutions associated with RECs. We will also discuss the development of the "source-grid- load-storage integration" pilot project and the promotion of the technologically innovative "SPEAR" pilot project.
We have also signed a strategic cooperation agreement with a hydrogen energy technology company to integrate new technologies, including energy storage and hydrogen energy, and increase the proportion of renewable energy supplying data centers. VNET has been on the way to explore the application of hydrogen energy technology as backup power supply, in "source-grid-load-storage integration" and local "micro-grid" as well as our future business models.
● Participation in the industrial standards' development
As a leading service provider and low-carbon practitioner for data centers in China, VNET actively participates in the formulation of relevant standards for green data centers, taking a leading role in following the path of "green, energy-saving, and carbon-reducing" in order to achieve sustainable development.
The Construction Standards for Zero-Carbon Data Centers co-edited by VNET sets forth the corresponding technical requirements for realizing zero-carbon data centers and specifies the carbon emissions calculation methods for the full life cycle, providing important guidance for the "decarbonization" of data centers. In addition, the Accounting Guidelines of Greenhouse Gas Emissions in Data Centers co-edited by VNET provides a solid reference for the calculation of carbon emissions in data centers and serves as an effective data basis for setting the carbon neutrality targets for the industry.
● Climate-related Financial Disclosures
We have incorporated climate risk management into our corporate strategy and announced our support for the Task Force on Climate-Related Financial Disclosures (TCFD) in alignment with international standards and practices in December 2021. As an important player in China's digital infrastructure development, we also strive to be a green contributor in addressing global climate change.
VNET has incorporated climate change into risk management systems. We regularly evaluate all asset-and business-related risks and opportunities based on their potential impact on the finance and stability of business activities, as well as the concerns from our customers and shareholders. The Group will establish an effective internal control mechanism based on risk assessments to minimize the negative impact of climate-related risks and seize new opportunities.
For details of climate-related financial disclosures of VNET, please refer to 2021 Environmental, Social and Governance Report of VNET Group, Inc.
Green Practice throughout Operation Cycle
In order to fulfill our commitments to carbon neutrality and contribute to China's "dual carbon" goals, VNET is actively following a green development path that is "high-efficient, low-carbon, intensive and circular", with the focus on improving the energy utilization rate throughout the life cycle of design, construction, operation and maintenance of data centers. We deeply explore the potential of energy conservation and emission reduction in our daily operation, in line with the strategic planning of green development at the industrial and national level.
Planning and Design
During the planning, design and construction phases of data centers, we comply with the Code for Design of Data Centers (GB 50174-2017), with "avoiding local ecological damage" as our primary principle. We adhere to the green design and construction standards to ensure that our data centers are green from the outset.
During site selection phase, we attach great importance to the availability of clean energy and the assessment of environmental impact, to ensure that there is no environmental pollution risk in the target area while developing control measures and emergency plans to minimize potential negative impact on the environment. We are also concerned about the protection of biodiversity in the area where the project is located. We strictly abide by the requirements and principles of various biodiversity-related regulations and principles such as the Convention on Biological Diversity of the United Nations, and assess the biodiversity impact of the project to avoid or mitigate potential impacts.
In the designing period of data centers, we benchmark with the international design standard of Tier III Ready and strive for the maximum greenness while ensuring the computational power of our data centers. All new data centers are designed in accordance with the one-star green building standard. For architectural design, we adopt more energy-saving and environment-friendly building structures or designs. For the selection of building materials, we give priority to materials that are durable, environment friendly and recyclable. In addition, we plan to apply for green building certification such as LEED or GREEN BUILDING for all newly-planned data centers.
The energy consumption of data centers mainly comes from IT equipment, cooling system, and power supply and distribution system. Therefore, we have applied a range of green equipment or technologies to improve the energy efficiency of data centers, such as: active application of energy-saving technologies for IT equipment; operation efficiency improvement of the cooling system by optimizing the airflow organization design, using high-efficiency energy-saving units, smart temperature control system, and air-conditioning AI energy efficiency management technology; power distribution systems structure optimization; and so on. For the heat generated from the equipment operation in data centers, we recover the waste heat to avoid energy waste.
VNET Hebei Data Center adopted multiple energy-saving technologies
VNET Air-conditioning (AC) AI energy efficiency management
VNET Waste heat recovery project
Construction Process
During the construction process, we build the three-level management network for construction site environmental governance. We also adopt various measures to prevent the environmental pollution generated during construction, such as dust, noise, and wastewater. In addition, we strengthen waste management, and minimize or recycle construction wastes, thus reducing the environmental impact generated during construction.
Green management system
To pursue green development and strengthen environmental and resource management, the Group has formulated the guidelines, such as the Carbon Emissions Management System and the Energy Management System, which aims to guide energy saving and consumption reduction and continuously explore pathways to improving resource utilization and reducing carbon emissions. VNET's main business involves the premises has been awarded the Environmental Management System (ISO 14001) and Energy Management System (ISO 50001) certifications respectively.
Intelligent operation system
The Data Center Infrastructure Management (DCIM) platform system is a digital-twins-based intelligent operation and management solution for data centers. The system can effectively achieve the high efficiency and low power consumption through the functions, such as "centralized intelligent monitoring" and "intelligent capacity". Up to now, the DCIM platform has been successfully launched in over 20 of our green data centers, effectively reducing PUE by 1% to 5% and improving resource utilization rate by about 10%.
Waste reduction
In strict accordance with relevant laws and regulations, VNET constantly strengthens the management of solid wastes generated in business operations, including the storage, transportation and disposal of solid wastes. We also engage in preventing and controlling environmental pollution risks, and continuously improving the efficiency of comprehensive waste utilization. VNET is committed to recycling resources. We recycle the scrapped IT equipment in the data centers, fill the service gap at the end of the IT equipment use cycle, and maximize the recycling of customers' electronic waste.
Green office
VNET attaches importance to the environmental management at our offices. A series of energy-saving and consumption-reducing measures and policies are adopted as part of our green office initiative. The Group posts posters and slogans in the office area to publicize the concept of saving electricity, paper and water. In accordance with the Beijing Municipal Regulations on the Management of Household Waste, we proactively carry out garbage classification in the office area, prepare garbage classification bins, popularize garbage classification related knowledge, encourage employees to implement garbage classification policies, and promote green lifestyle.